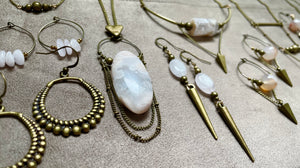 • • • Bloom • • •
---
Bloom into your potential with these beautiful Cherry Blossom Agate & Rose Quartz stones.
Cherry Blossom Agate motivates us to cultivate our lives, by digging into the dirt of our souls and to prepare for planting.  By shedding our armor that holds us back we can bloom into our full potential.  Its energy stimulates the heart chakra which encourages love, beauty, and compassion. It reminds us to nurture ourselves and those we hold dear.
When looking closely at these milky and blush gorgeous stones, some patterns resemble seeds and others resemble blooming flowers. The stones represent the journey of our growth, reminding us all beautiful things take time to develop, and to reflect upon and enjoy the process. 
My inspiration behind this collection is to shed the armor, spikes, and chains we prop up in front of ourselves. And to be courageous with our hearts as we plant new seeds, enjoying the journey and not just waiting for full blooms.